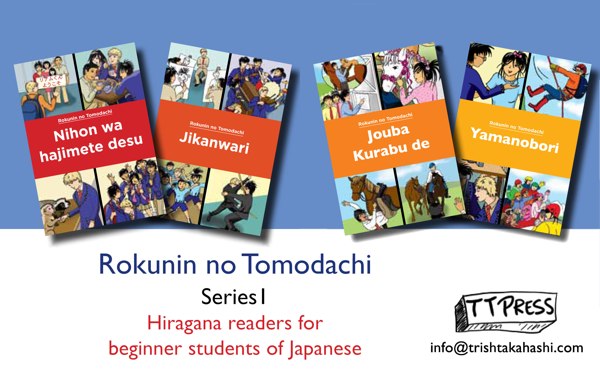 Japanese Reader: Rokunin no Tomodachi
These supplementary Japanese Readers for Students in Year 7 or 8 - their first year of learning Japanese - are designed to provide enrichment material that appeals to students in this age group, while extending their vocabulary and understanding of Japanese language and culture. These readers encourage students to read for enjoyment as they increase their exposure to the language.
Set in Japan, Rokunin no Tomodachi, Series 1 consists of four readers. Each story is approx. 500 words in length, and is followed by a wordlist, comprehension exercises and a creative task. Teacher notes are also included. Illustrated in manga style, these books are visually appealing. The picture support allows the stories to be developed beyond the boundaries imposed by limited linguistic ability. The aim is to encourage students to deduce meaning from the text with minimal reliance on translation.
native speakers. Different course books present language in different orders, so all but the most basic language structures appear as vocabulary items in the word lists.
Each reader is a self-contained story, though there is a common thread running through the series.
Download the instruction PDF : "Using_Rokunin_no_Tomodachi_S1.pdf"
Available at

my bigcartel shop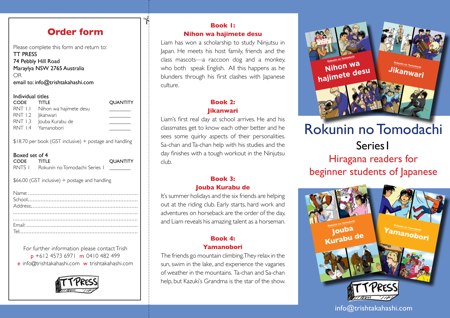 download flyer & order form
---
To order books please email to: info@trishtakahashi.com

Individual titles: $17.00 per book (GST exclusive) + postage and handling
Boxed set of 4: $60 per set (GST exclusive) + postage and handling
Series 1 CD: $25 (GST exclusive) + postage and handling

For further information contact Trish
p: 02 4573 6971
m: 0410 482 499
e: info@trishtakahashi.com